Publié dans Beauté / Pandora, le 24 avr 2013, 57 commentaires

" And the raven, never flitting, still is sitting, still is sitting On the pallid bust of Pallas just above my chamber door; And his eyes have all the seeming of a demon's that is dreaming, And the lamp-light o'er him streaming throws his shadow on the floor; And my soul from out that shadow that lies floating on the floor Shall be lifted – nevermore ! "
(Edgar Allan Poe, The Raven)
Pictures by Betty Gaiss
Bra and panties : Von Follies via Glamuse / Corset : Corset Couture via Corset.fr / Garter : Chantal Thomass
Feather cape : Asos (old) / Black cocoon jacket : Vintage / Headband : Vintage / Flowers : H&m (old) / Collar : Vintage, gift from Elsa / Stockings : Cervin / Necklace : Etsy / Earrings : Camille ClaustreMily Serebrenik Make-up artist.
Cela fait bien trop longtemps que je n'avais pas fait des photos de lingerie, mais depuis ma journée avec Chantal Thomass, je me suis totalement replongée dans cet univers, que vous reverrez régulièrement sur le blog. Loin de moi l'intention de vous montrer mon corps sous toutes les coutures, c'est une atmosphère de féminité sophistiquée que je veux avant tout mettre en avant, par le biais de ces délicates créations (Vous avez vu l'ensemble Von Follies ? Quelle merveille !). Je suis heureuse d'enfiler à nouveau un corset, et les fines broderies de celui-là ont su me conquérir, elles se marient très bien avec ce divin col brodés de jais que m'avait offert Elsa. Très maison close à nouveau, on y revient toujours ! D'ailleurs je vous propose de gagner ce corset, en m'envoyant dans les commentaires une jolie peinture ou image (n'oubliez pas votre mail !), je choisirais la gagnante en fonction de celle qui m'aura le plus touchée.
Pour répondre aux quelques critiques ou aux compliments (qui n'étaient en effet pas très sympa pour Olena) reçus sur l'article Luxure, sachez que grâce au blog et à la thérapie de l'image, je suis très bien dans mon corps ! Certes, j'ai mes défauts, les bras et les jambes maigres mais les hanches trop larges (décalage étrange), le derrière trop rebondi, le haute des cuisses idem, et pas mal de cellulite, une silhouette que je détestais jusqu'à ce que : 1-je découvre que les femmes dessinées par Klimt sont toutes foutues comme ça 2-j'ai un mec super qui me trouve toujours belle (surtout quand je grossis !) 3-que j'en finisse par m'en foutre totalement. Comme tout le monde, je maigris ou grossis suivant les phases, mais désormais je ne fais plus vraiment attention, d'autant plus que je me nourris outre-mesure de fromage et de cuisine asiatique (mes deux lubies) et je déteste me priver, je suis bonne vivante et tiens à le rester ! On m'a toujours félicité pour mon appétit, je suis du genre à me resservir deux/trois fois, heureusement que j'ai un bon métabolisme. D'ailleurs, je suis plus du tout pudique, être bien dans sa peau c'est aussi s'assumer à tout moment, et croyez-moi ça change la vie ! Et vous, quelle est votre relation avec votre corps ?
It's been a long time since I haven't shot lingerie pictures, and I'm pretty happy to immerse myself again into this glamourous world. These pictures are not about my physical appearance, they focus on a luxurious atmosphere of sophisticated feminity, and on the extreme delicasy of these dreamy designs (That Von Follies ensemble is to die for !). It's hard to believe that it's been so long since I haven't worn a beautiful corset, and this one is truly gorgeous, and goes perfectly with the antique beaded collar that was gifted by my dear friend Elsa. On my "luxure/lust" post, I received both mean and nice comments about my body and I have to confess that, thanks to the blog and its therapy, I'm very confident with myself and really don't care about what people think about my physical appearance ! I have many defaults, my hips and upper tights are too big and wide compared to my thin arms and legs, and so is my biiig bottom, I used to hate my silhouette before I realized that : 1- Klimt's figures are exactly the same 2-I have an amazing boyfriend that thinks I'm beautiful all the time (especially when I put on weight !) 3-I don't give a fuck anymore :D . Like everyone my weight is different depending on the seasons, but I don't pay attention to it anymore, because I'm a big glutton (in terms of cuisine, cheese and asian food are my greatest love affairs) and I really hate to be on a diet, I love life and I love to eat !! By the way I'm no longer shy with my body, being confortable in your own skin also means be at ease with yourself at anytime, et believe me, it's life-changing ! And you, what's your relationship with your body ?
Inspirations
Pola Negri
Dita by Ali Mahdavi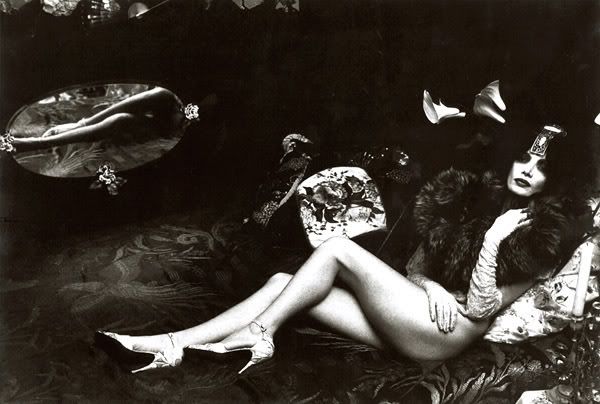 Irina Ionesco
Irina Ionesco pour Stiletto
Enoch Bolles
Ravens : Leonor Fini and Cher